2022 Porsche 911 Model Review with Prices, Photos, & Specs

2022 Porsche 911
Key Features
Starting at $101,200 MSRP*
3.0-liter twin-turbocharged flat-six (379 HP / 331 TQ, Carrera), 3.0-liter twin-turbocharged flat-six (443 HP / 390 TQ, Carrera S), 3.0-liter twin-turbocharged flat-six (473 HP / 420 TQ), 3.8-liter twin-turbocharged flat-six (572 HP / 553 TQ, Turbo), or 3.8-liter twin-turbocharged flat-six (640 HP / 590 TQ, Turbo S)
Evocative exterior design with increased body width, wider wheel housings, LED headlights, and variable-position rear spoiler
Top track speed of 191 MPH and 0-60 time of 3.5 seconds (911 Carrera S)
Ergonomic interior characterized by clear and straight lines of the dashboard with recessed instruments
World-first Porsche Wet Mode which detects water on the road and preconditions the stability control and anti-lock brake systems accordingly
Optional Night Vision Assist with a thermal imaging camera
Porsche Communication Management (PCM) with 10.9-inch touchscreen display and Apple CarPlay / Android Auto smartphone integration
About the Porsche 911
Faster, more seductive, and more engaging than ever before – the eighth generation Porsche 911 stays true to its race-winning pedigree while continuing to innovate and push the limits of performance. Infused with quintessential Porsche DNA, the 911 boldly showcases a muscular stance on the road complemented by an ergonomic interior that's both modern and timeless. Every 911 is powered by a precision-tuned turbocharged flat-six engine that's more potent and more compact than the prior generation. Expanding on the already impressive collection of available active driver-assist technologies, the 911 includes standard Porsche Wet Mode that enhances driver awareness on slippery road surfaces. Inspired by classic 911 models of the 1970s, the cabin of today's 911 has been engineered to deliver a blend of ergonomics and engagement. Longer, wider, and more composed than ever before – the Porsche 911 remains one of the most coveted and capable sports cars in automotive history.
"As the Carrera's twin-turbocharged flat-six spins to life, it's immediately apparent that all the action is going on behind you. There's some aural augmentation at work here, physically piping engine noise into the cabin, but it comes off as more organic than artificial, and it means you get to hear more of the one thing that makes the 911 different than any car on the market: it's engine." – MotorTrend
"Steering is still electrically assisted, but Porsche claims the responsiveness is now 11 percent quicker in the standard car. Feedback on the track is as good as its predecessor's, as is its faultless precision. The direct connection gels well with the newfound grip and sense of stability, reducing the apparent size of the wider and heavier 992." – Car and Driver
The biggest update to the Porsche 911 for the 2022 model year is the arrival of the track-tested 911 GTS model. 911 GTS variants are powered by an enhanced 473-horsepower version of the 3.0-liter twin-turbo flat-six engine that comes paired to your choice of either a 7-speed manual or 8-speed automatic transmission. The 911 GTS is available in Coupe, Cabriolet, and Targa body styles along with your choice of rear-wheel drive or all-wheel drive. Other key performance highlights of 911 GTS models include larger brake rotors, exclusive alloy wheels, and a specially tuned sport suspension. Last but certainly not least, the entire 911 model range gains updated Porsche Communication Management (PCM) infotainment software that boasts greater response and the addition of Android Auto smartphone integration.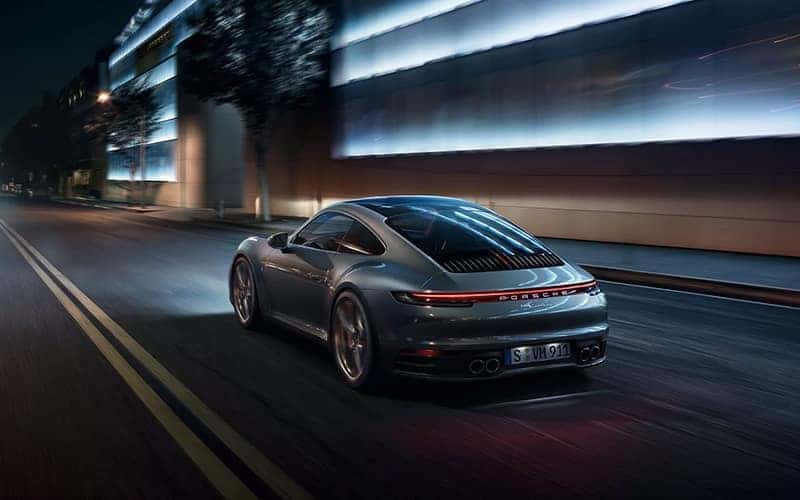 Timeless Exterior
Truly a progressive evolution in terms of exterior styling, the Porsche 911 remains thoroughly modern while paying homage to classic 911 models of years past. Its poised stance is made possible by large 20-inch front wheels and 21-inch rear wheels, confidently accentuated by sculpted wheel housings. Body width at the front has been increased by a total of 1.77 inches compared to the prior generation, helping to widen the front track. Similarly, the rear width of both 911 Carrera S and 4S models have been widened to 72.91 inches, precisely the width of the previous-gen 911 Carrera 4 and 911 GTS models. Similar to the first 911 generation, the front luggage compartment lid with pronounced contours is flanked by LED headlights. In an effort to reduce weight, the entire outer skin is now constructed with aluminum with the exception of the front and rear fasciae.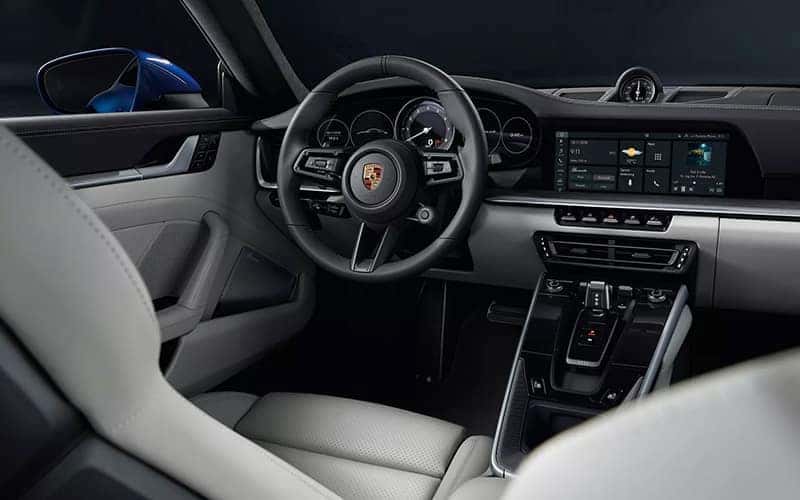 Driver-Focused Interior
Adhering to the timeless principles of Porsche design, the 911 cabin begins with prominent straight lights on the dashboard accented by recessed gauges. Two thin frameless, free-form displays provide easy access to key information on both sides of the centrally positioned tachometer. Optional Adaptive 18-way Sport Seats Plus with enhanced lateral support hug the driver firmly in place during high-speed cornering. A large 10.9-inch touchscreen display in the Porsche Communication Management (PCM) system helps improve your drive with improved connectivity from Android Auto and Apple CarPlay smartphone integration.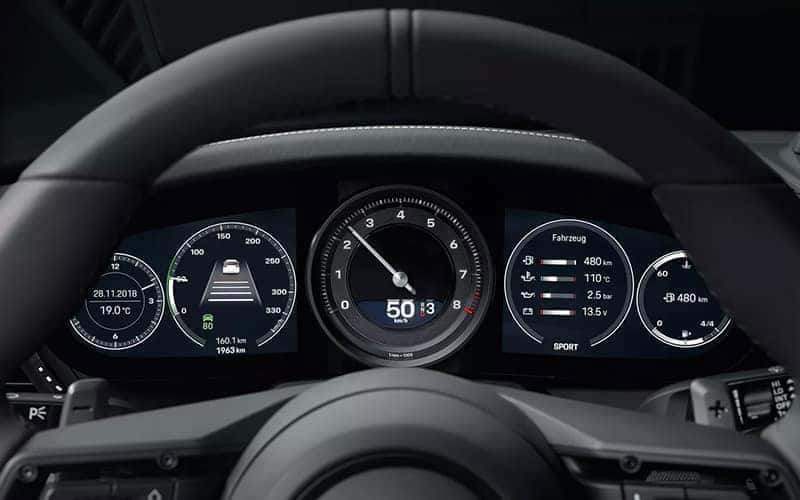 Potent Performance
Porsche 911 Carrera S and 911 Carrera 4S models produce a robust 443 horsepower thanks to a potent turbocharged flat-six engine. This marks a 23-horsepower improvement as compared to the previous generation. It takes only 3.5 seconds to reach 60 MPH from a standstill behind the wheel of the rear-wheel drive 911 Carrera S Coupe. 911 Carrera 4S Coupe models need only 3.4 seconds. Upgrade to the 911 GTS, 911 Turbo, and Turbo S to feel the exhilaration of a track-proven twin-turbo flat-six. These astounding figures can be lowered even further by 0.2 seconds with an optional Sport Chrono Package. The 8-speed PDK dual-clutch transmission is included as standard and a manual transmission is also available.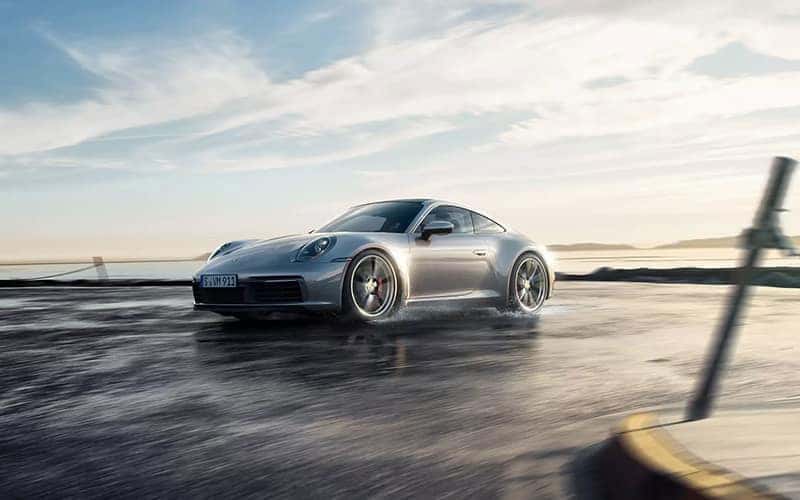 Driver-Assistance
Developed in-house by Porsche, every 911 comes standard with the groundbreaking Wet Mode feature. This highly specialized function is able to sense water on the road surface, precondition the stability and brake systems as necessary, and alert the driver to a potential for a loss in traction. Also included as standard, a camera-based warning and brake assist system has the ability to predict the risk of a collision with cyclists, pedestrians, and other vehicles. Available Adaptive Cruise Control includes automatic distance control, stop-and-go functionality, and an innovative Emergency Assist function for even greater confidence behind the wheel.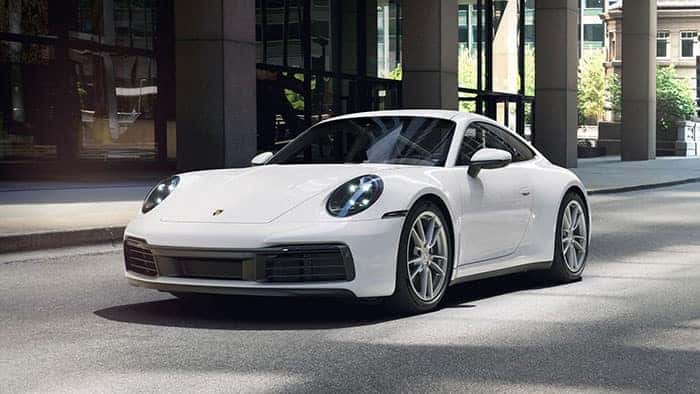 911 Carrera
Starting at $101,200 MSRP
Horsepower – 379
0-60 MPH – 4.0 seconds
Top Track Speed – 182 MPH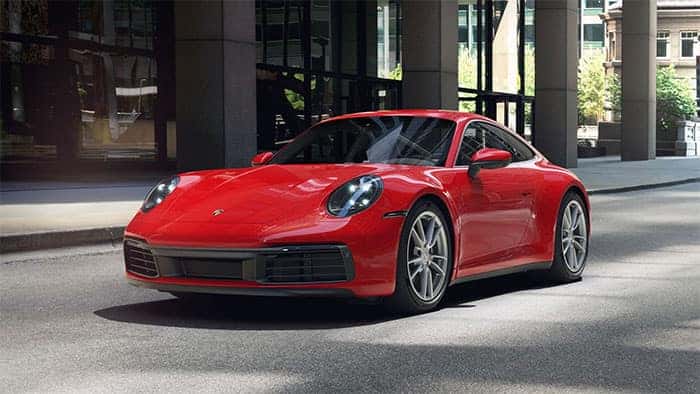 911 Carrera 4
Starting at $108,500 MSRP
Horsepower – 379
0-60 MPH – 4.0 seconds
Top Track Speed – 180 MPH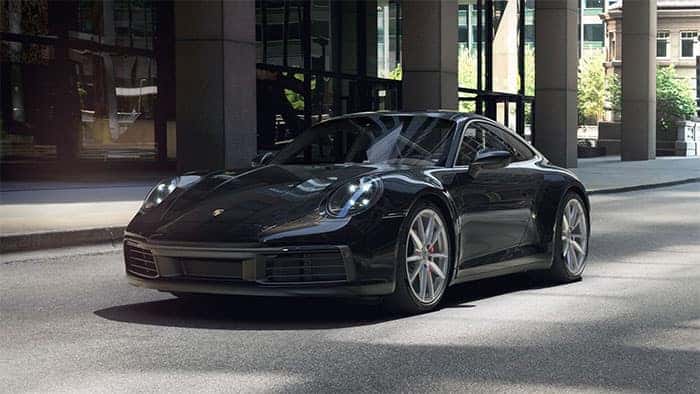 911 Carrera S
Starting at $117,100 MSRP
Horsepower – 443
0-60 MPH – 3.5 seconds
Top Track Speed – 191 MPH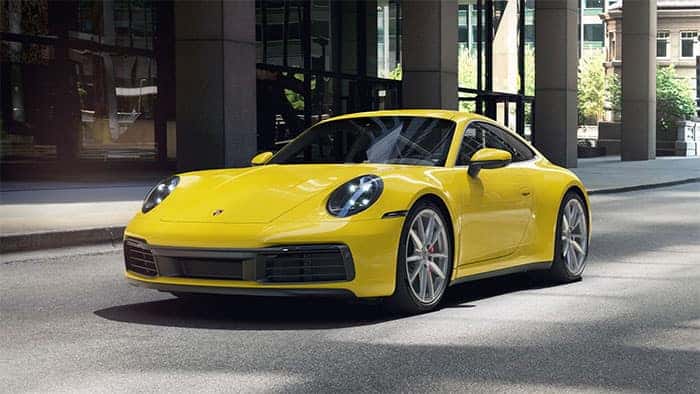 911 Carrera 4S
Starting at $124,400 MSRP
Horsepower – 443
0-60 MPH – 3.4 seconds
Top Track Speed – 190 MPH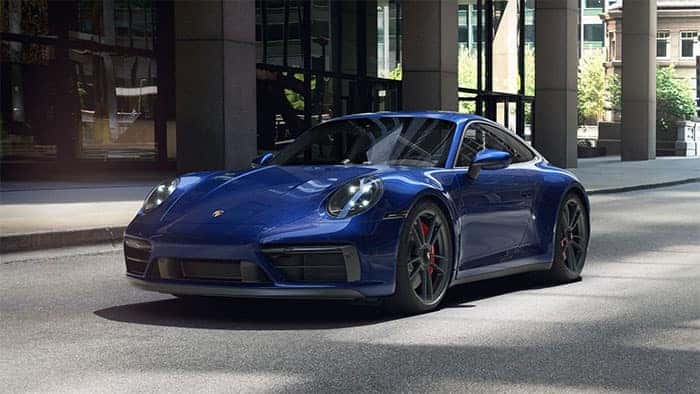 911 Carrera GTS
Starting at $136,700 MSRP
Horsepower – 473
0-60 MPH – 3.2 seconds (with Sport Chrono package)
Top Track Speed – 193 MPH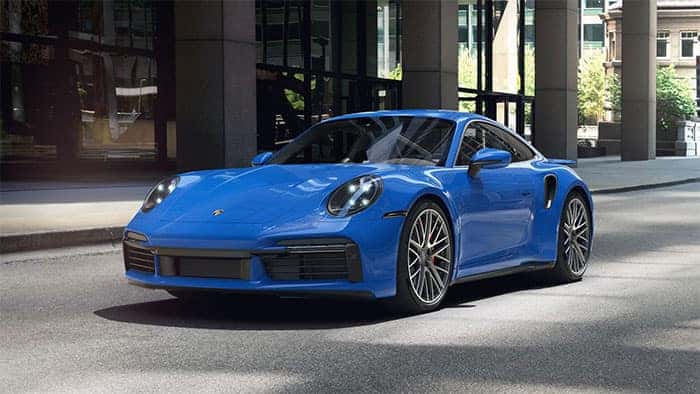 911 Turbo
Starting at $174,300 MSRP
Horsepower – 573
0-60 MPH – 2.7 seconds (with Sport Chrono package)
Top Track Speed – 199 MPH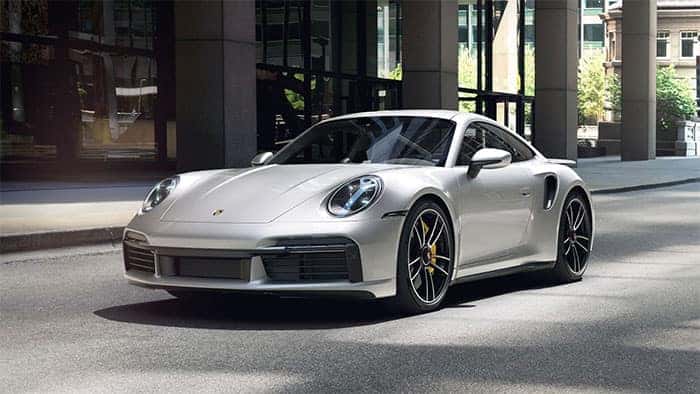 911 Turbo S
Starting at $207,000 MSRP
Horsepower – 640
0-60 MPH – 2.6 seconds (with Sport Chrono package)
Top Track Speed – 205 MPH
*Manufacturer's Suggested Retail Price. Excludes options; taxes; title; registration; delivery, processing and handling fee; dealer charges. Dealer sets actual selling price.