California Tour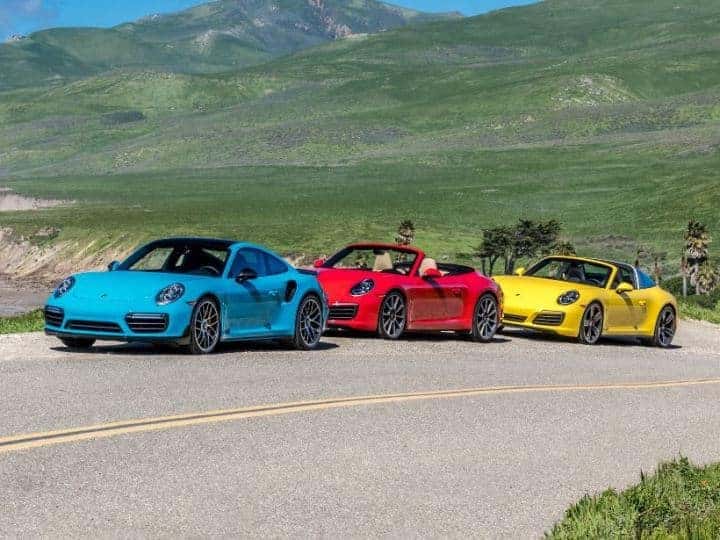 LA to The Bay, via the Black Forest.
California offers some of the world's most legendary driving experiences. Our California Tour brings the best of them together in an unforgettable week-long program. This thoughtfully curated driving tour will be led by an experienced Porsche Sport Driving Instructor. As you head from the warm, top-down weather of Southern California to the cooler climes and rockier terrain of the Northern coast, you'll get the most out of every mile behind the wheel. Along the way, you'll enjoy the company of a group of like-minded driving enthusiasts who share your appreciation of Porsche design and performance.
Scroll down to see all the details of this tour.
Trip highlights
Porsche Experience Center Los Angeles
Highway 101
Big Sur
17-Mile Drive, Pebble Beach
San Francisco and the Golden Gate Bridge
Napa/Sonoma wine country
Program Vehicles
Throughout the trip, you'll enjoy plenty of time behind the wheel of these Porsche vehicles:
911 Carrera S Cabriolet
911 Targa 4S
911 Carrera GTS
911 Turbo Cabriolet
911 Turbo
Tour Schedule & Details*
Day 1: Arrival and Welcome Reception: Terranea Resort, Rancho Palos Verdes
After landing at LAX you'll make your way down the coast to the acclaimed Terranea Resort in beautiful Rancho Palos Verdes. There, you'll kick off the week with luxurious accommodations, breathtaking views and a private welcome reception to toast the unforgettable week that awaits.
Day 2: Porsche Experience Center Los Angeles to Rancho Palos Verdes, Terranea Resort
The real fun starts today. On the second day of your trip, you'll head to Porsche Experience Center Los Angeles. This 53-acre playground is our West Coast home. It's a state-of-the-art destination where driving enthusiasts can fully explore the depths of a Porsche's capabilities. Here, you'll enjoy a half-day of track activities and immerse yourself in all things Porsche. Before heading backing back to the Terranea Resort, you'll continue to follow the action at a trackside lunch.
Day 3: Rancho Palos Verdes to Belmond El Encanto, Santa Barbara
Day three marks your first day driving up California's spectacular coastal and mountain roads. Stunning stretches of Highway 101 and the Pacific Coast Highway greet you as you wind your way toward the art, culture, and dining mecca of Santa Barbara. Known as the "American Riviera," Santa Barbara is a coastal retreat with a picture-perfect backdrop. And with Belmond El Encanto Santa Barbara as your designated accommodation, your stay is sure to be as enjoyable as the drive there in a Porsche.
Day 4: Santa Barbara to L'Auberge Carmel, Carmel
Day four takes you northward to explore the gems of California's middle coast. The rugged coastlines of Big Sur, scenic 17-mile drive around Pebble Beach, and the roads near Monterey make the area a magnet for sports car enthusiasts from around the world. After a day of giving the pavement its requisite pounding, you'll roll into Carmel, known for its picturesque views, upscale boutiques, and world-class dining. Tonight, you'll stay less than a block from the action at L'Auberge Carmel, the European-style inn that combines old world charm with luxurious, modern amenities.
Day 5: Carmel to Indian Springs Resort and Spa, Calistoga
The further north you drive in California, the more the weather, topography, and tastes change. Napa Valley is truly a feast for the senses, and when you add the visceral power and performance of a Porsche to the equation, it almost borders on sensory overload. After a series of breathtaking drives through the winemaking region, today's itinerary finishes at the Indian Springs Resort and Spa in Calistoga. The town is famous for its hot springs and relaxing aura. The resort's world class spa is the perfect place to indulge yourself after a day in the driver's seat.
Day 6: Calistoga to Scarlet Huntington Hotel, San Francisco
What goes up must come down. And the drive down from Calistoga to "The City by The Bay" is just as exhilarating as the way there. From the moment you arrive in San Francisco, you'll feel it's contagious energy and vibrant culture. You're sure to enjoy your stay in the Nob Hill neighborhood of San Francisco at the elegant Scarlet Huntington Hotel, featuring luxury touches that consistently earn rave reviews. There, you'll enjoy a finale dinner party and celebrate the trip of a lifetime.
Day 7: Program Concludes: Depart from San Francisco
It's a shame that a driving experience like this has to end. But you'll leave with fantastic memories, new friendships, and a whole new appreciation of the Golden State. In the very likely event you get the urge to plan another trip with Porsche Travel Experience USA, consider our Route 66 Tour.
Schedule
6 nights/5 drive days including Porsche Experience Center Los Angeles
Wave 1: LA-SF Sept 7-13
Wave 2: SF-LA Sept 15-21 (Drive route above will take place in reverse order)
Program cost
$8,900 USD (per person, based on double occupancy)
$10,900 USD (per person, based on single occupancy) single occupancy shares a vehicle at all times with another single registrant
Register Now
To register or for more information, please contact us at 1-888-945-1170 or PTEinfo@porsche.us.