Available Now- The 2018 Porsche Panamera in Cincinnati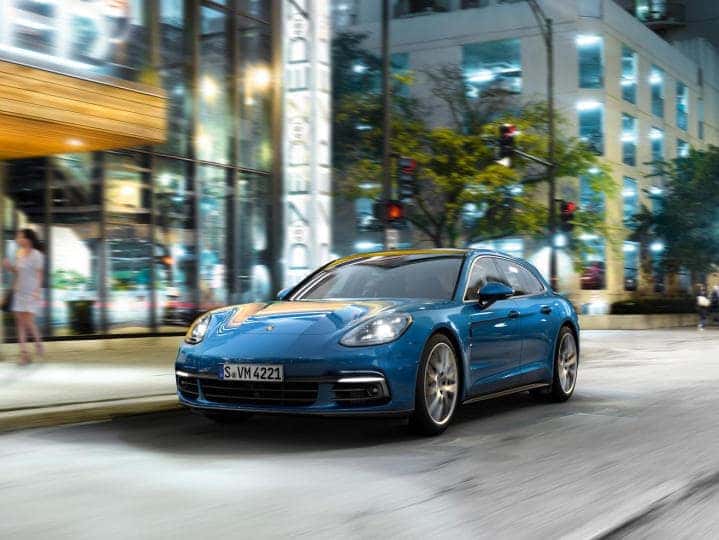 To describe the 2018 Porsche Panamera in one word would be doing it a disservice.  The 2018 Porsche Panamera in Cincinnati is certainly sleek, powerful and sexy, but it is also innovative, stylish and safe.  Going further into the vehicle you'll find that the Panamera is an amazing choice for a new vehicle because it has…
Performance Enhancing Features
The 2018 Porsche Panamera makes a statement with its performance features.  It all starts with the 3.0-liter turbo V6 producing 330 hp and 331 lb.- ft of torque.  In conjunction with an 8-speed Porsche Doppelkupplunk (PDK) transmission with Auto Start Stop function, you already have a powerful drive at your fingertips.  However, Porsche does not stop there.  The new generation Porsche Panamera 4S has a twin-turbo V6 engine that is lighter and more compact than its predecessor and comes equipped with VarioCam Plus.  For an even more innovative move, the two turbochargers are positioned in between the cylinder banks, reducing the distance the exhaust stream has to travel to the turbo.
Safety First Approach
Even with all of the performance features in the Panamera, Porsche made sure to keep upping the game on safety.  The new Panamera models have a brake system that utilizes a six-piston aluminum Monobloc fixed calipers at the front with four pistons on the rear.  To improve braking behavior, the brake discs are internally vented and slotted, dissipating heat at a more even pace.  Available as an option is the Porsche Ceramic Composite Brake (PCCB).  These brakes are considerably more powerful, but more importantly is that they are exceptionally consistent.  To help improve your driving experience, the Panamera has driving assistance features such as Lane Change Assist with Turn Assist and ParkAssist. Whether on the open road or in the city, the Panamera has you covered.
Unparalleled Comfort
The Panamera has seating options that offer a high-level of comfort and provide support for fast cornering without restricting freedom of movement.  Available as an option are adaptive sport seats with an 18-way electric memory package that helps provide better lateral support.  The seats also have an available massage function with five programs and five intensity levels, helping you on those long drives.
Performance, style, and innovation certainly meet together for a sleek and sexy package in the 2018 Porsche Panamera in Cincinnati.  Want to know more about the Panamera?  Come see us today at Porsche of the Village!